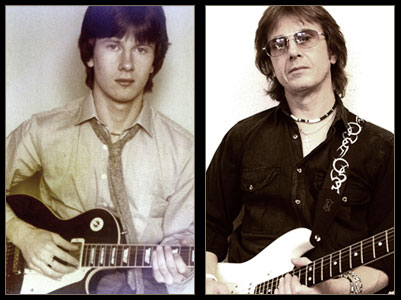 "I've been playing the guitar all my life, man and boy... it's an on- going process, ever evolving, continuously creating, searching for a new way of playing the same notes. There's no right or wrong way, to play the blues... so long as it comes from your heart".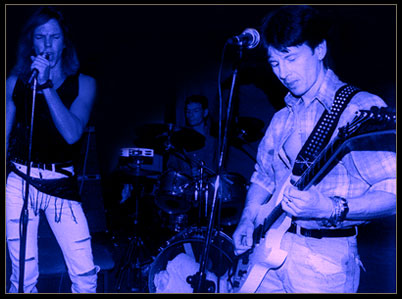 Chris Neale formed rock band 'Flaming Jane' in 1991 with Neil McJannet on vocals and Andy Compton on drums... but never found a permanent bass player. The band relied on friends to stand in on bass for gigs and were quite well received locally in the Epsom area of the UK. As well as covering songs from Led Zeppelin, Thin Lizzy, The Stones, Deep Purple and Free... it was an opportunity to perform original material, specifically written and produced by Chris.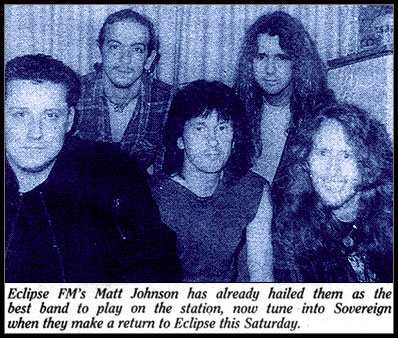 In 1994, Chris joined Sovereign and within just a few weeks of joining they were asked to perform live on local radio. The set, two songs and an interview, went out to the whole of London via United Artists Cable. As a result, the band was approached by London Weekend TV... and later, generated some interest from Sony Records!
However, it wasn't to be... family pressures on founding member and song-writer Chris Colwill, forced him to leave and the band fell apart... "Chris Colwill was a great guy and wrote some really cool tunes... although I write too, I had no desire to mess with his stuff... if he asked me for an ending, I'd come up with something and he always gave me free reign to do what I wanted for the lead! The soul of the band, without him, Sovereign just could not continue".
CHRIS NEALE
I have been playing the guitar it seems, all my life... but I actually started taking lessons when I was about eleven, after school. I didn't really know much about music then, but there was a simple benchmark back then that kind of pointed you in the direction that you would ultimately follow... did you dig The Beatles first... or The Stones?
If it was The Beatles, then in my view at least, you were more than likely to follow the pathway to Pop rock with your flowery shirts, 'Loon' pants and all that stuff. But if it was The Stones... the road ultimately lead to Blues-based rock... and rebellion.
EARLY INFLUENCES
Of course back then, I didn't have a clue what the music was about... I just kind of instinctively knew that 'Can't Get No Satisfaction' was probably going to be a far more accurate reflection on life... than 'She Loves You Yeah, Yeah, Yeah'. The Stones looked the part too and they had attitude.
However, unbeknown to me at the time... The Stones were importing African-American Blues songs to Britain, kick-starting the Blues-rock scene and more importantly, ultimately leading to the revival of the Blues in America and the re-emergence of the great Afro-American Blues artists to whom we owe so much.
JIMI HENDRIX
Then... there was Jimi. Once more, I was too young to understand what Hendrix was about? All I knew was that I just loved that overdriven amp sound... and those notes that he played... (pentatonic blues scales). Jimi started out as a jazz musician, which is all part of the same thing really... and ended up DOA at Mary Abbott's hospital, Kensington... the same place where I was born (previous to the event).
Jimi didn't have a technically over complicated style... not like some of these dudes today... but try and play a Hendrix lick and get it to sound exactly like him... you can't man, only Jimi can do that.
PURPLE, ZEP, FLOYD
It was thanks to a friend's uncle, that I was introduced to Deep Purple, Led Zep and Pink Floyd... and naturally it was the guitar playing that struck a chord, to coin a phrase. Jimi Page's lead on 'Stairway', Dave Gilmore's 'Money'... brilliant examples of blues pentatonics... although I didn't know that at the time.
But it was Ritchie Blackmore's style that first got me reaching for the lead guitar tutorial, having been content to strum away to 'The House of the Rising Sun' and 'Leaving On a Jet Plane' for quite a few years! Blackmore was a master at well constructed, perfectly phrased blues-based lead guitar... to this day the lead break in 'Smoke On The Water' is to my mind, one of the best examples of this genre.
HUMBLE PIE, BUDGIE
I saw Humble Pie at Croydon... a band that seems to have been forgotten about, but really was very influential back then. And... Budgie? You might not of heard of them... although they had three or so albums released in the 70's. A three-piece, I saw them at Croydon too... blues-based heavy rock, the way I wanted to do it.
So... I learned the blues pentatonics and to this day, still base everything around that, but with a few extra notes added. I practiced to the tutorial's blues backing tracks... provided on floppy vinyl and I still use those tunes which have now been converted to digital. Along the way... I picked up Ritchie's way of pulling off instead of hammering on (which someone pointed out to me once)... interesting?
However, unlike many guitarists, I intentionally didn't try to learn other well known guitarist's licks... I might get an idea from them, but I've tried to develop and keep to my own style of playing.